April 07, 2005
Bits, Discs, and Blogs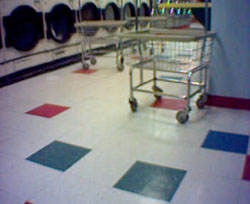 At the 8-Bit Laundry Shop, the crew prepared for a Saturday night outing. Do you think Bit Shifter will play Parallax Barrier?, asked one Crew Worker to another. I don't know, I just hope my fuckin' socks get dry this time, right? was the surly reply.
Meanwhile…
In the Triskaidekaphobia Basement Labs, an excited intern ran back with the news: I found this memo under the wire machine, sir. It looks like LaCie released an update for their external CD/DVD drives. Do you know what that means?.
The grizzled head of the Labs stood up in a flash. My God son, of course I do… we don't have to install PatchBurn on our aging Macs to make CDs from iTunes! Hot damn! Get the fuckin' company credit card from the vault, cuz Pappy's gonna rock some fuckin' Paul Westerberg tonight!. The baffled intern ran away, excited, but concerned about all the cursing.
Because of course…
You've heard Ted Leo do his cover of Since U Been Gone. Now, read the report about it.
Indecentdentally…
While reading about Lynnette in Iceland, the Next Blog button waved its seductive typography at a Lab user. Clicking on it brought the following spanish site and smut. Fitting, it was thought. Ms. Lynnette would approve.
Too bad what it didn't bring up was the the insane THIS IS FUN TO MAKE A BLOG ON THE COMPUTER WEBSITE site.
You will never think of wigs in the same way again.
posted at 09:09 PM |
find it forever